Depot Street Duplexes, built in 2017 and located at 120 Depot Street in Forest City, PA, offers 4 duplex buildings consisting of 8 units. They are modern 2 bedroom units in a pleasant and safe community. Rents start at $650 plus utilities. There are no subsidies included. They are for residents 55 and older.
They offer many amenities, including wall-to-wall carpeting, fully equipped kitchens with dishwashers, and laundry facilities in each unit. In addition each unit has its own garage and covered porch.
For rental information, contact the Housing Authority at 570-278- 4096.
Below is a typical floor plan of these units. You can also view a PDF here.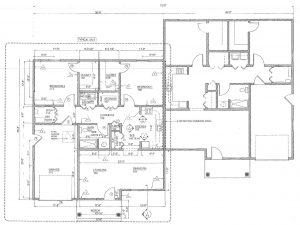 Amenities at Depot Street Duplexes
All units are one story and have a kitchen with:
A 30″ electric range with oven
A 20-cubic-foot refrigerator
A 24″ dishwasher
Each unit also has a:
Bathroom
Living room
Laundry area with washer and dryer provided
Two bedrooms with walk-in closets
A utility room
Dry storage space
Closet space
Attached garage
Covered entrance porches
These units do not have basements, and the total square footage of one unit is 1365 square feet.
The cost to rent one of these units is $650 plus electric and gas. Landlord will pay for water and sewer and provide maintenance service, lawn care and snow plowing. Other costs associated for the tenant would be trash removal, telephone, television, and internet access.
If you're interested in these units, download and fill out a Rental Application today, and find a letter from management here.